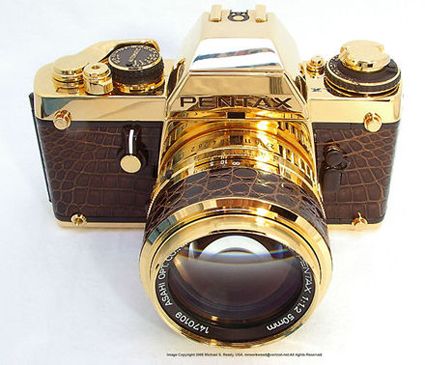 Way back in 1981 when graffiti was still adorning the subways and the price of coke was $20 a gram, Pentax had sold it's ten-millionth LX SLR camera. To celebrate this fete, they created a limited "LX Gold" edition which was 18 carat gold plated and wrapped in brown leather lizard skin. It came in a wooden box with red lining and silk gloves for handling.
Only 300 pieces were made with 200 going to Japan and 100 for the international market. But not all were sold as some were given away for photo contests and other PR stunts making it a super rare find. That's the history of the Pentax "LX Gold" camera.
How this 1981 limited edition camera got republished into being the "world's first water-proof and dust-resistant SLR camera which was specifically made to celebrate 60th anniversary of the company" is beyond us, but with all the interest it generated maybe Pentax will actually consider re-releasing this as a digital?