Interact10ways has done an incredible job here. Enjoy the photos in this spectactular graphic demo and dive into an endless array of images. The effect pretty much also demonstrates the fractal principle of self-similarity on many levels:
Zoom movie by SCI FI Channel and Fallon Worldwide
Hypnotic and trippy: Scenes and images melting into each other.
The Infinite Oz features the artistic visions of nine international artists. Inspired by L. Frank Baum's adventures combined with SCI FI channel series event Tin Man.
Check it out right here, right now:
Zoomquilt is already a classic.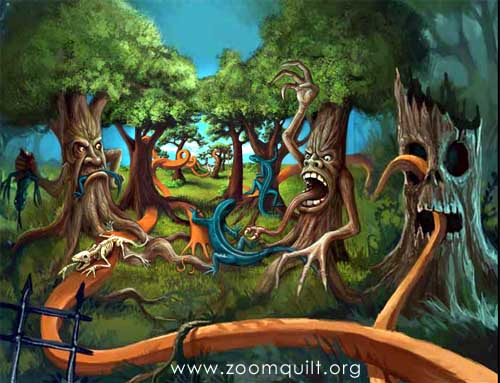 Zoom in and out a world full of psychedelic landscapes and scary fantasy worlds. One of the most extraordinary zoom-graphic-art-movies on the net.
Artists: Andreas Schumann, Eero Pitkänen, Florian Biege, Jann Kerntke, Lars Götze, Luis Felipe, Marcus Blättermann, Markus Neidel, Paul Painter, Nikolaus Baumgarten, Oliver Schlemmer, Sonja Schneider, Thorsten Wolber, Tony Stanley, Ville Vanninen, Paul Hinze
Enter this stunning psychedelic fantasy world, with Pink Floyd sounds, here: